Ukraine held its national championship from February 9 – 11. This meet was the opportunity to unveil the new national team roster and the new duet to the general public. With half of the 2016 Olympians and veterans now retired, Ukraine is banking on a new generation to continue its rise through the international rankings and to reach the Olympic podium in 2020.
Unsurprisingly, the new national team won the team competition with the 2016 "Illusion" routine that was introduced in Rio for the first time. Here is Ukraine's new roster:
Anna Voloshyna, 2016 Olympian
Kseniya Sydorenko, 2008, 2012 and 2016 Olympian
Kateryna Sadurska, 2016 Olympian
Anastasiya Savchuk, 2016 Olympian
Oleksandra Kashuba, 2014-2016 senior national team
Yelyzaveta Yakhno, 2014-2016 junior national team, 2015-2016 junior duet member and soloist
Yana Nariezhna, 2014-2016 junior national team, 2015-2016 duet member
Alina Shynkarenko, 2015 and 2016 junior national team
Marina Aleksiiva, 2016 junior national team
Vladyslava Aleksiiva, 2016 junior national team
Ekaterina Goncharova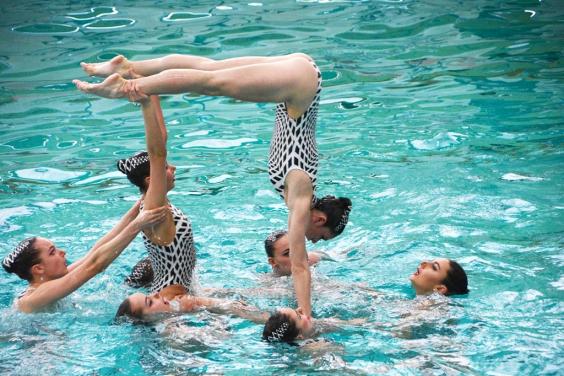 With the retirement of Lolita Ananasova, the duet is now composed of Anna Voloshina and Yelyzaveta Yakhno. Yakhno has a stellar junior resume and was a member of the junior national team from 2014 to 2016. She represented Ukraine at the 2015 European Games in the solo, duet, and team events. Yakhno also participated in the 2016 Junior World Championships, where she won silver medals in the solo and duet events, an incredible feat that hadn't been done since 2010. You get it, Yakhno is good and has already proved herself on the international scene. Pairing her with now-veteran Voloshina is a logical decision, and I am so eager to see what these two will accomplish as a duet. They both have the same strengths and have incredible presence in the water.
Here is your new duet member Yelyzaveta Yakhno in solo during last year's junior World Championships:
Yakhno's former duet partner and longtime junior national team member Yana Nariezhna is also a part of this new senior roster. In addition, Voloshina retains her status as the soloist of the team, and will certainly continue to deliver performances full of charisma and playfulness.
Head coach Svetlana Saidova was fairly satisfied from her young team's performance at this competition, but is already looking ahead as she tries to determine what the best team composition will be for the 2017 World Championships. The goal this season is to maintain the team's status as second European nation and third/fourth on the world stage.
Next up for Ukraine will be the Make Up For Ever French Open at the beginning of March in Montreuil, France.
Article by Christina Marmet